Research Paper: Project SEED
Diederick Jacobs
Posted on: 11/4/2021,
2

minutes read
House of Chimera x Project SEED
Project SEED is one of the first blockchain gaming ecosystems with Decentralized finance (DeFi) integrations built on the Solana Blockchain and Binance Smartchain. Their first game is an Action Role-Playing Game (ARPG), Outland Odyssey, where players can explore and progress through a wondrous metaverse with their favorite companions, ZEDS. Outland Odyssey will revolve around ZEDS, companions that players can tame comparable to Pokémon™. In the metaverse of Outland Odyssey, there are dozens of variations of ZEDS with different characteristics.

The Project SEED ecosystem utilizes various DeFi solutions to handle trading and ownership by using a native Decentralized Exchange (DEX) and Non-Fungible Tokens (NFTs)! The ecosystem utilizes the native token, SHILL, as a utility token. The token will be used for governance, staking, and trading. To add to that, the SHILL token will be interoperable by a mint-burn mechanism to control the circulating supply of the token.The in-game currency of Outland Odyssey will be O2, a currency that is obtainable by playing the game (i.e., play-to-earn) and is used solely for in-game purposes.
Read the whole research paper HERE.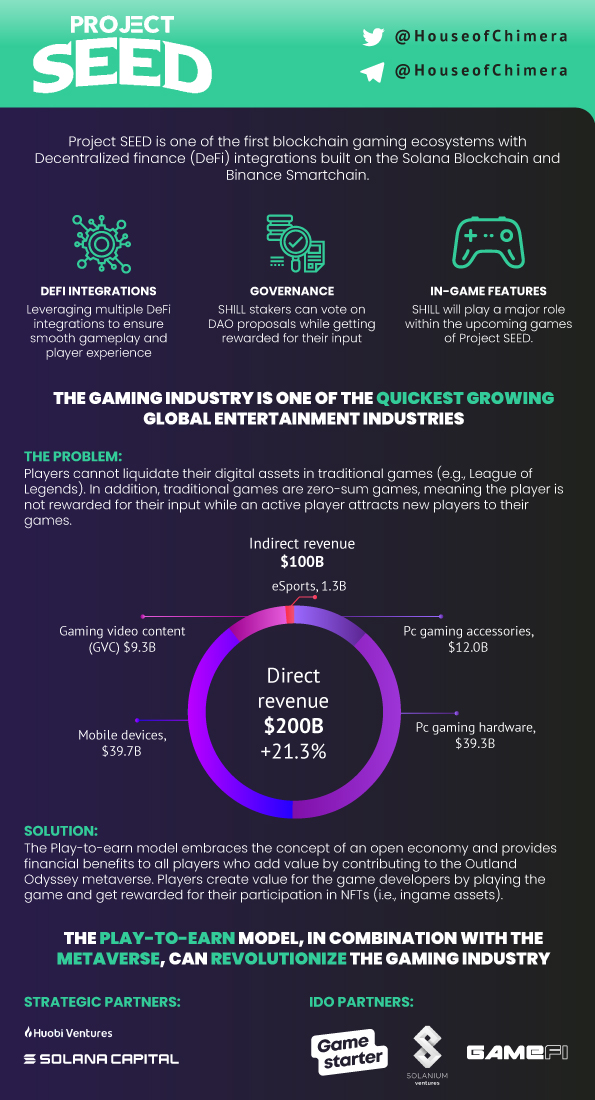 Back to blog