House of Chimera Weekly Altcoin Update Week 13
Diederick Jacobs
Posted on: 3/29/2022,
2

minutes read
House of Chimera Weekly Altcoin Update Week 12
This week's HoC Weekly's Altcoin Update will highlight Zilliqa and RankerDAO!
Zilliqa
Metapolis event
It has been a wonderful week for Zilliqa, with a significant increase in volume, value and overall digital exposure to the ecosystem. The cryptocurrency community is excited for the upcoming Metapolis Early access event on the 2nd of April in Miami, showcasing the first use cases and overall capabilities of the first layer-1 XR metaverse. The Metaverse-As-A-Service (MAAS) model will allow Zilliqa to attract traditional and cryptocurrency partners by deploying their brand within a scalable metaverse. Zilliqa has partnerships with multiple global eSports companies (e.g. Mad Lions, NIP, RQQ) by leveraging the Metapolis. The use-cases of the Metapolis are relatively broad because an XR-metaverse can be used within multiple industries. Walmart utilized an early-stage metaverse in 2018 to highlight its vision of a VR shopping experience. The MAAS model will allow Zilliqa to capitalize on a solid trend by selling digital domes (i.e. Metapolis land) to partners. The newly acquired revenue can be utilized to strengthen the ecosystem further by giving out developer and artist grants.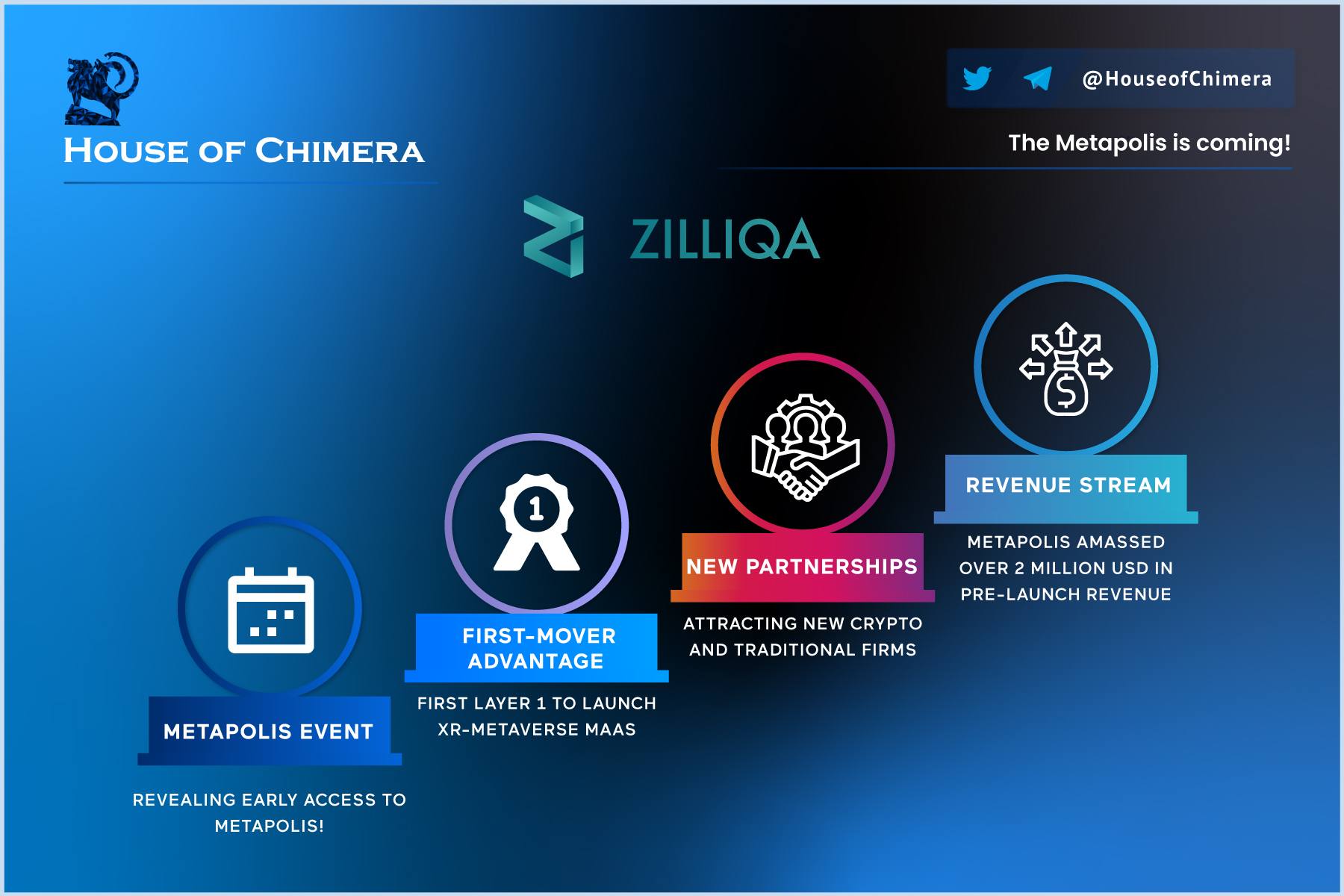 RankerDAO
Ecosystem overview
The RankerDAO community is multiplying; more and more scholars are onboarding while the DAO inventory is progressively increasing. The ecosystem is onboarding new games, providing scholars with even more play-to-earn options and also increasing the overall total yield of the DAO. The projection of the ecosystem is to earn at least 4 million USD in revenue in the upcoming 12 months, which can be accelerated through the onboarding of new scholars. Currently, over 1,500 scholars are on a waiting list, and these will gradually get access to the ecosystem. The DAO inventory is linearly increasing with the increase in yield, allowing more scholars to join the ecosystem.
Back to blog